Day 3 - Goodbye Bangkok, Hello Singapura
(posted at 4:06 a.m July 25, 2004)
Despite being extremely tired from the heat and all the walking, we managed to get up at the unholy hour of 5:30 a.m. We went down, had our last breakfast at the Arnoma's coffee shop, Buttercup. By 8:30 a.m we checked out of the hotel and were driven to the airport by the same driver who picked us up 2 days ago. A Thai with a permanent smile on his face and even if he didn't speak English much, his bright deposition and pleasing personality was a nice way to end our Siam journey.
After a 15 minute delay, we finally shoved off from Don Muang Airport aboard SQ 63 bound for Singapore at 11:45 a.m.
We landed at about 15:30 p.m Singapore time (the same time in Manila) at Changi Airport. I was naturally expecting and dreading the tedious security check we experienced previously. But guess what? There wasn't any!!! It just proves to you that only flights from Manila are subjected to intensive security checks. But hey that's Singapore for you! Paranoid, well organized too sanitized for my own good. Anyways I've always maintained that Singapore is a good place to visit but to actually live there (which I did for abt 3 years) is another story. So we took a taxi from Changi Airport to Oxford Hotel on Queen Street. Right behind Allson Hotel off Bras Basah Road. Room 514 for my sister and me and Room 715 for my parents. Even if we requested for adjoining superior rooms or if possible 2 rooms on the same floor. But nope it was fully booked and only rooms available at the time of our check in was 514 and 715. Ok fine whatever. I was too tired to argue and my eyes are red because my contact lenses were dry as the desert. Since we were going to spend 5 days there, we decided to take it easy a bit and we all fell asleep from exhaustion. By the time we woke up at 19:30 p.m we were all famished. LOL We decided to walk to Raffles City which is the nearest mall to our hotel. Passing through Chijmes and the Cathedral of the Good Shepard. At the Food Junction, 5th floor of Raffles City, I devoured my prawn mee with gusto. Also feasted on popiah, and nasi goreng. Yes I was that hungry. LOL I noticed that Robinson's was now the flagship store and not Sogo and that the former Times Book Store was now occupied by MPH. Hmmm interesting! But when I checked the prices of the books, they were still way cheaper here in Manila. Because 1S$ = P32. We limbed back to the hotel by 10:30 p.m and once again promptly fell asleep the minute my head hit the pillow.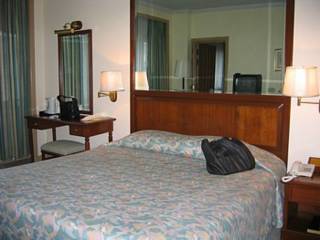 Room 514, Oxford hotel