Smiley
Yehey!!! One of my favorite rock bands,
BON JOVI
is releasing their new album, next month! I saw the video of their first track on MTV. The song entitled
"Have a Nice Day"
is catchy. Quite reminiscent of their popular old hits. It features a smiley face that spreads across the whole city.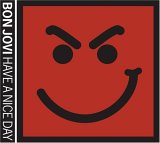 Take a look around you,
look it's what he sees.
We're living in a broken
home of hopes and dreams,
Let me be the first to shake a helping hand.
Everybody, pray enough to take a stand,
I knocked on every door,
on every dead end street,
Looking for forgiveness,
what's left to believe?
Ohhh, if there's one thing I hang onto,
It gets me through the night.
I ain't gonna do what I don't want to,
Im gonna live my life.
Shining like a diamond,
rolling with the dice,
Standing on the ledge,
show the wind how to fly.
When the world gets in my face,
I say, Have A Nice Day.


Have A Nice Day

.