Songs
I don't have an iPod.
I have this:
Samsung Yepp YP E-64 model.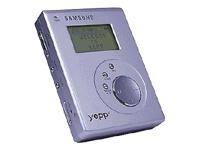 Yes it's a relic.
One of its earliest models of mp3 players.
I bought it way back in 2000 or was it 1998?
I don't remember.
Back when it took me 2 hours just to download ONE mp3.
It can only accommodate about 14 songs.
It runs on 2 AAA batteries.
Which last roughly about 5 hours.
But hey I won't trade it for a million $$!
I found my Yepp while sorting through a box of my stuff I brought back here from my parents' place last weekend.
I have yet to find the cable to attach it to my PC.
And it seems the software CD is not compatible with windows XP. LOL
So I just listened to the songs in it.
I fell asleep at 3:30 a.m while Robbie Williams crooned:
"We sat and watched the sun go down,
Picked a star before we lost the moon.
Youth is wasted on the young,
Before you know it's come
and gone too soon.
You were there for summer dreaming,
And you gave me what I need.
And I hope you'll find your freedom,
For eternity, for eternity."
True enough when I woke up at 8:45 a.m. the earphones were still in my ears.
And yes, the batteries are dead. LOL
I'll have to go to the store to buy new ones.
And ransack my place to find the cable.
But mostly, I need to find the drivers online.
So I can upload songs that won't leave stains on my pillow.
From the tears I shed, crying.